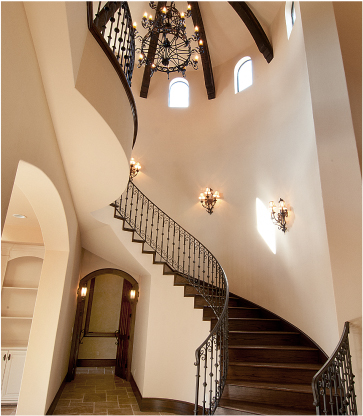 Design
Place Vision, Opportunity
Where air, earth, water and light combine in ever-changing proportions, the most important raw material is neither wood, nor stone, nor steel. It's inspiration. An Architectural inspiration is born of an internal vision that draws from the unique characteristics of the site.
With it, through creative manipulation and coordination of material, technology, light and shadow; we aspire to create a design that reflects "your home".


John A. Grossett A.I.B.D., N.C.B.D.C.
John has been a Certified Professional Building Designer through the American Institute of Building Design since 1988, recognized by the National Council of Building Designer Certification. To receive this honor requires a level of education, years of experience, and completing a rigorous exam by N.C.B.D.C. John has produced plans for custom homes ranging in size and style as large as 30,000 sq. ft. and a myriad of style.
John's work history goes back as far as the early 80's working with Architects, Designers, Builders, and Engineers.
The skill of bringing someone's dream home to reality is one that John cherishes and practices each time he is working on a set of plans. John imagines a space that meets the needs of the individual and reaches to aspire the depths of their dreams. Through listening and communication together we create the home that will capture the heart of the soul which resides in a space that was only an idea. Watching this come to fruition as the home is being built is one of the best to witness.